Swipe to the left
Introducing Hermes Dogon Wallet​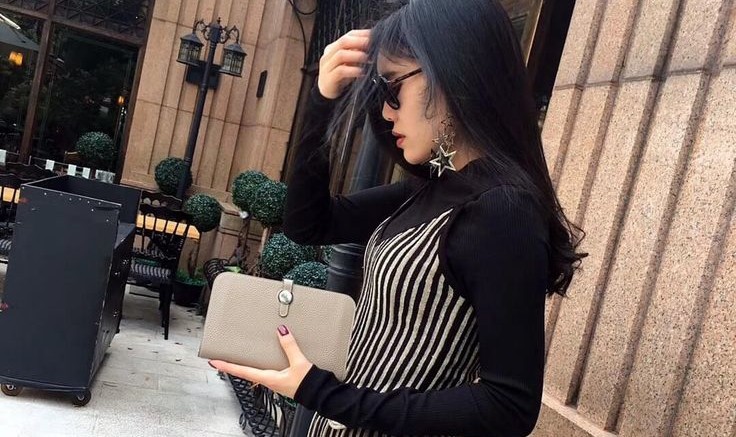 We love the Hermes Kelly Wallet; we love the Hermes Jige Wallet, but the Dogon? We think this wallet has been underrated, the model images at Hermes looks too simple, then why not take a closer look.

Most of Hermes's accessories are nice, including the Hermes Dogon Wallet. This Wallet conquers your heart with its minimal look, single colors but durable leather mixed with impeccable craftsmanship.
Inspiration can be from anywhere, and when it's Hermes, the designer stuff is enlivened with the sources of nature, it can be from sea, ships or animals. Putting together the roots of its long history and up-to-the-minute fashion, Hermes designs its luxurious products. Such is the case of the Hermes Dogon Wallet which comes with the iconic "Clou de Selle" tab closure.

Why not to start from where the journey began; this would have been the quote of the brand when it designed these wonderful pieces. Since Hermes started its vogue through saddle making, which were in a way became part of its identity, the "Clou de Selle" mark refers to the small nail that was used before to make handmade saddles. So, if you want a classic that would also make a statement in a dime a dozen crowd, then this Dogon wallet is the best option.

Though the design looks simple, the prominent closure in the centre front is the eye-candy, it takes all the attention. Needless to say, the impeccable craftsmanship of this brand is what we are looking for.

Design


Pulling at our heartstrings, this Hermes Dogon wallet features the two most unique traits that you won't find in any other wallet. One is, of course the ever-stunning Clou de Selle tab closure in circular shape with your beloved 'Hermes Paris' engraved in it. It's available in gold, palladium and silver hardware, all as per the color choice. Also, this Dogon wallet comes in two styles; the Combined wallet and Compact wallet, each style is so minimal yet so Hermes! Secondly, this one-of-a-kind wallet comes with a removable zipped coin purse. Isn't the bag truly well-rounded!

Interior & Sizes

The interior is next to none, just experience it for yourself and you'll feel the same. Its greatest feature is that it has a removable small zipper pouch that can be used in any way; either you can put it inside for easy put-together or you can carry it while you need just some cash in a night out. If you are not in a mood to take the full purse out for a show-off, then this small pouch will serve well.

Blame is all on you, you are just not aware with the capacity of your beloved Dogon wallet. It can store as much as 14 cards if we double store in each slot, plus the licence, the Id, travel card and what not! Whereas the Dogon Compact wallet has two credit card slots, one zipper purse and two extra compartments, the Dogon Combined 5 credit card slots, one removable zipper purse, two extra compartments and one bill slot. Can you simply fantasize for more storage in a wallet! We think not.

For those that are interested, the size is measured 4.9' x 7.9' inches.